WHAT ARE EDUCATIONAL BENEFITS?
Schools that participate in School Nutrition Programs accept applications for Educational Benefits at any time. Approval is based on comparison of the household's income to current U.S. Department of Agriculture (USDA) household income guidelines. Schools send an Application for Educational Benefits form to the households of all enrolled students at the beginning of each school year. A letter accompanies the form and explains school meal benefits and how to apply.

Households that have already been approved for the following public assistance programs can complete an Application for Educational Benefits using case number(s) instead of household income information:

Supplemental Nutritional Assistance Program (SNAP)
Minnesota Family Investment Program (MFIP)
Food Distribution Program on Indian Reservations (FDPIR)

To learn more about this program > https://education.mn.gov/MDE/dse/FNS/SNP/proc/App/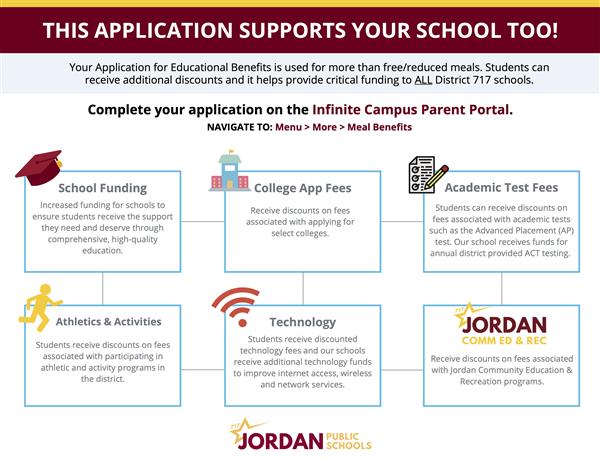 APPLY ONLINE
APPLY ONLINE!
The Application for Educational Benefits is available online in the Infinite Campus Parent Portal. Note: You must have a parent portal account to apply online. If you need access, please contact Hope Mack at hmack@isd717.org or call 952-492-4221.

Online Steps:

Log into your Parent Portal
Choose 'More' in the menu
Choose 'Meal Benefits'
SUBMIT PAPER APPLICATION
Paper applications should be returned to the Jordan Public Schools District Office.

Drop Off In Person:
500 Sunset Drive
Jordan, MN 55352

Mail:
Jordan Public Schools
District Office
500 Sunset Drive, Suite #1
Jordan, MN 55352

Email:
Hope Mack
hmack@isd717.org

With questions, please call Hope Mack
at 952-492-4221
LEARN MORE
WOULD I QUALIFY?
The income thresholds are higher than in other programs, so many families are surprised to find they DO qualify.

APPLYING BENEFITS THE SCHOOL TOO!
Students in households that meet the free or reduced-price meal income guidelines will generate compensatory revenue for their school as well. Compensatory revenue is money schools receive from the state to meet the needs of students. When qualifying families don't apply for meal benefits, it results in lost revenue for our district and students. Compensatory revenue can be used to meet learners' needs in the following ways:

direct instructional services

remedial instruction

additional teachers and teacher aides to provide more individualized instruction

extended school day care or summer programs

comprehensive and ongoing staff development to improve their ability to identify the needs of these learners and provide appropriate remediation, intervention, accommodations, or modifications

instructional materials, digital learning, and technology

programs to reduce truancy, encourage completion of high school, enhance self-concept, provide health services, provide nutrition services, provide a safe and secure learning environment, provide coordination for pupils receiving services from other governmental agencies, provide psychological services to determine the level of social, emotional, cognitive, and intellectual development, and provide counseling services, guidance services, and social work services

all-day kindergarten

and more

found here

These applications may also make teachers in your school eligible for the federal Teacher Loan Forgiveness Program if they have outstanding college loans.