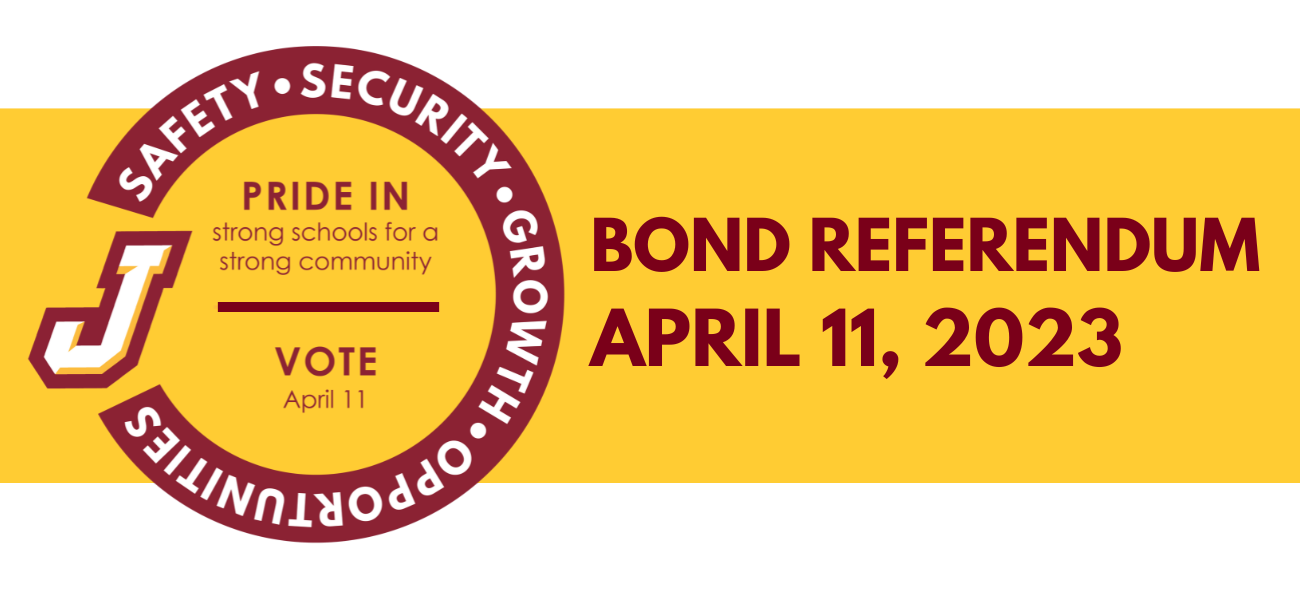 On April 11, Jordan Public Schools area residents will vote whether to approve funding to address our critical building needs.

We engaged our school community in Spring 2022 during our strategic planning work. One focus that came from that work was to take pride in our facilities; most specifically a need for enhanced safety and security, and updates at Jordan Elementary School. This focus was reaffirmed during a broad community survey in Fall 2022. The needs for improved safety and security of our buildings and more space within our elementary school are not going away. The areas of our buildings that will be impacted by this proposed funding for upgrades (plus $3 million in deferred maintenance including HVAC, electrical, windows, and roofs) will allow us to meet the needs of our community for years to come. In order to create strong schools for a strong community, a bond referendum is needed.
Voting Information
Election Day Voting
Tuesday, April 11, 2023
7:00am - 8:00pm
The CERC
500 Sunset Drive
Early Learning Space Needs
Facility Challenges
Jordan Elementary School

Secured entrance and office space are not functional for controlled visitor access.
1970s classrooms are undersized and outdated.
Lunch periods run from 10:50am-1:05pm due to inappropriately sized kitchen and cafeteria.
Early learning program is running out of space. Limited dedicated Kids' Company before/after school childcare space.
Special Education classrooms lack space and appropriate accommodations.
Current single gym does not meet the needs for school and community use.
Outdoor drainage issues.
Traffic flow issues with parking, including pick-up and drop-off areas.
Numerous deferred maintenance issues need to be addressed including doors, windows, roof, and mechanical and electrical systems.
Restroom areas are small and not located near bulk of classrooms.
Need additional playground space.

Jordan High School

Need updated secured entrance to enhance building security and better control visitor access.
Open House Q&A Event
We want to ensure community members are informed about the bond referendum. During Celebrate Jordan on April 2, 2023, community members will also have the opportunity to attend a bond referendum open house to ask any questions they may have about the upcoming vote on April 11, 2023. The open house will be upstairs in the multi purpose room from 1:00-4:00pm!
The Solutions
Safety & Security

Enhance secure entrance at Jordan High School.
Enhance secure entrance at Jordan Elementary School.

Growth

Addition of 6 classrooms and a new cafeteria space at Jordan Elementary School.
Renovate and expand Early Learning wing of Jordan Elementary School with additional restrooms and add a dedicated Kids' Company childcare space.

Opportunities

Renovate 1970s classrooms at Jordan Elementary School to include window replacement and miscellaneous maintenance.
Full size gymnasium addition at Jordan Elementary School.