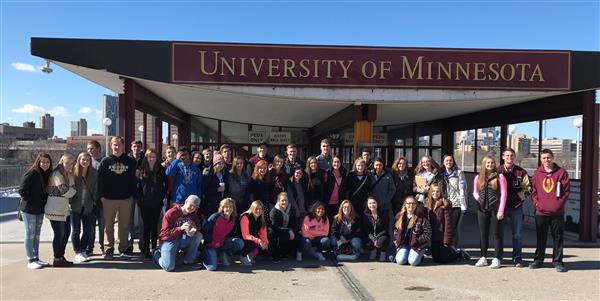 EARN COLLEGE CREDITS IN HIGH SCHOOL
There are a variety of ways to earn college credits while still in high school. Students can leave Jordan High School and attend a local college through Post Secondary Enrollment Options (PSEO), take a College in the Schools (CIS)/Concurrent Enrollment (CE) course, take an Advanced Placement (AP) course or gain a certificate through an articulation agreement.

AP (Advanced Placement):
AP classes offered at Jordan High School with our high school teachers. Students take the course and then take an end of course exam. Depending on their score they may earn high school credit. AP courses are:

AP American History
AP World History
AP Chemistry

Articulation Agreement:
AA's are typically found in the Career and Technical Education department. Teachers in those departments work with particular technical schools to align their curriculum with courses offered at the technical school so that students can waive those credits. To see what particular school a class articulates with please see the information in the Course Registration Guide. Classes include:

Accounting IA
General Business
Sports and Entertaining Marketing
Computer Programming
Computer Graphics
Computer Animation
Website Design
Microsoft Office Specialist (MOS) Applications
Foods II
Child Development II

CIS (College in the Schools) and CE (Concurrent Enrollment):
Jordan High School offers a variety of courses through the University of Minnesota (CIS) and Mankato State University (CE). Students take the course at Jordan High School with one of our teachers. If students earn a C or better in the course they will earn college credit. CIS/CE classes are:

CIS Literature
CIS College Algebra through Modeling
CIS Calculus
CIS Anatomy and Physiology
CE Spanish

PSEO (Post Secondary Enrollment Options):

Postsecondary Enrollment Options (PSEO) is a program that allows 10th-, 11th- and 12th-grade students to earn college credit while still in high school, through enrollment in and successful completion of college courses. With traditional PSEO, these courses are generally offered on the campus of the postsecondary institution; some courses are offered online. Postsecondary institutions are not allowed to charge PSEO students for tuition, textbooks or support services. Students may be charged for equipment that becomes their property when the course or program is completed.

Most PSEO courses are only open to high school students during their 11th- and 12th-grade year, with each participating college and university setting their own requirements for enrollment into the PSEO courses and programs. Students may take PSEO courses on a full- or part-time basis.

Many two- and four-year colleges and universities in Minnesota offer online courses and some of them offer online degrees and certificates. Through the wide array of online courses offered in Minnesota higher education, it is possible for PSEO students in our state to complete the Minnesota Transfer Curriculum requirements and/or other courses that could result in an award in addition to their high school diploma.

Students must meet the PSEO eligibility requirements and abide by participation limits outlined in the Postsecondary Enrollment Options Act. If a school district determines a pupil is not on track to graduate, she/he may still continue to participate in PSEO. School districts must complete the Verification of Extended PSEO Eligibility Form to document the determination that a pupil is not on track to graduate for the purposes of PSEO eligibility.

To assist the district in planning, students are required to inform their district of their intent to enroll in PSEO courses during the following school year by May 30. Interested students must complete the Postsecondary Enrollment Options Program Registration Form.

PSEO State-Approved Early/Middle College Programs
PSEO funding can be used for developmental coursework only when a student enrolls full-time in a State-Approved Alternative Program's Early/Middle College. This program must be specifically designed to allow the student to earn dual high school and college credit with a well-defined pathway leading to a postsecondary degree or credential. Each alternative program and its partnering postsecondary institution must complete and submit the Early/Middle College Program Identification Application and required documents to be considered for PSEO funding for developmental coursework.

Annual Statement of Assurance for Eligible PSEO Courses
According to Minnesota Statutes, section 124D.09, subdivision 2, PSEO courses must be "nonsectarian courses or programs at eligible postsecondary institutions." Postsecondary institutions will not be reimbursed for courses that are determined to be sectarian in nature, specifically those that: 1) prepare students to become ministers of a particular religion, enter a religious vocation, or prepare them to teach theological subjects; 2) are based upon one particular set of religious beliefs; 3) propagate or promote any one religious belief or viewpoint. Postsecondary institutions are required to complete the Annual Statement of Assurance Form to verify that courses offered to PSEO students are nonsectarian in nature.

PSEO for 10th Graders to take Career and Technical Education (CTE) courses
Legislation allows eligible 10th-grade students to enroll initially in one Career and Technical Education (CTE) course through PSEO. If the student earns a "C" or higher grade in this first course, she/he is eligible to take additional CTE courses while in 10th grade. In order to be eligible, a 10th-grade student must have met the proficiency level of "meets or exceeds" on the 8th-grade MCA reading test. If the student did not take the MCA, another reading assessment accepted by the enrolling postsecondary institution can be substituted.

The Minnesota Department of Education has developed a new Policy entitled: Minnesota Department of Education Alternative Eligibility Options Policy for 10th Grade Students with a Disability who Wish to Participate in Career and Technical Education Classes through the Postsecondary Enrollment Options Program. The Policy and written procedures are effective December 8, 2015. Access the policy, procedures, and the Modification Request Form.

Transportation Reimbursement for Qualified Students
Funds are available to help pay transportation expenses for PSEO students whose families are at or below the poverty level, as determined by the federal government, to participate in PSEO courses on college campuses. Access the PSEO Mileage Reimbursement Program Instructions . If you have any questions regarding the mileage reimbursement for low-income students' participation in the PSEO program, contact Kelly Garvey at 651-582-8524.