Return to Headlines
Jordan Elementary name a 2017-2018 "School of Excellence"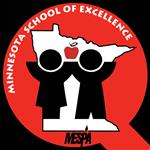 FOR IMMEDIATE RELEASE
Jordan Elementary School Validated as a 2017–2018 Minnesota School of Excellence
(St. Paul, MN – August 28, 2017) – Jordan Elementary School has been validated as a Minnesota School of Excellence by the Minnesota Elementary School Principals' Association (MESPA). This prestigious honor was awarded to Jordan for its commitment to 21st century teaching and learning.
"Through the Minnesota School of Excellence program, grounded in national research on high-performing schools, MESPA has created the premier opportunity in the state for validating greatness in a school community," said Jon Millerhagen, MESPA executive director. "This school improvement program examines the entire school community through six national standards, ensuring there is a holistic approach to creating a plan for future achievement and celebrating the unique accomplishments of each School of Excellence."
Sam Richardson, chair of the School of Excellence Committee, said, "It takes hard work and commitment to thoroughly assess areas of strength and at the same time plan for continual improvement. The SOE process provides an opportunity for the entire school community to reflect on the collaborative work being done and to celebrate these accomplishments. Schools that receive validation have had important data-driven conversations about what a high-quality 21st century learning experience should be for all students and have plans to make that learning experience a reality. Honoring the important work of dedicated staff, eager students, and supportive communities is an essential component of becoming a School of Excellence."
Jordan Elementary is located in the Jordan Public School District and serves approximately 650 students in grades K-4 and another 150 PreK students. Jordan Public Schools participated in a Strategic Planning process in 2014 to focus on their mission statement: Inspiring a caring community to ignite learning, innovation, and success for all. "We created a vision statement for Jordan Elementary School prior to this process, and the SOE process directed us back to that vision, ensuring we were focused on the academic and social-emotional development of students, and professional growth and well-being of staff," said Melissa Barnett, principal of Jordan Elementary.